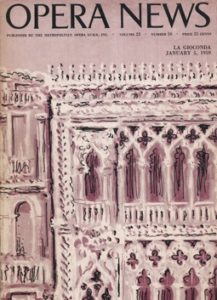 My first published  writings were articles and performance reviews for Opera News, beginning in January, 1959.   Later that same year, I began reviewing recordings for High Fidelity,  at  that time the country's premier magazine on music and recordings, with a distinguished staff of critics, assigned according to their specialties.  (Mine, of course, was opera and other vocal music.)  When High Fidelity acquired the venerable journal Musical America in 1965, I began writing about live performance for them as  well.  From  1962-1969, I was also the NewYork music critic for London's Financial Times, filing a couple of columns per month during the season.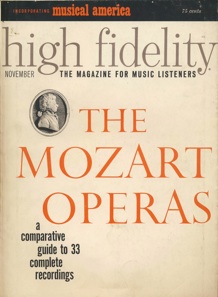 For a writer on  opera and singing, the 1960s were exciting years, and New York an exciting place.  At the Met, the veterans of the immediate postwar generation (Tebaldi, De los Angeles, Albanese, Kirsten; Simionato, Resnik, and Dalis; Tucker, Bergonzi, and Gedda; Merrill; Siepi, Hines, and Tozzi) were teaming with the younger wave of  Sutherland, Nilsson, Crespin, Rysanek, Freni, and Caballe; Gorr, Bumbry, and Ludwig; Corelli, Vickers, King, Kónya,  McCracken, Gedda, and Kraus; MacNeil and  Milnes; Ghiaurov,  and many others to give us the last full decade  of true grand opera singing.   At the New York City Opera, a potent ensemble headed by such stars as Beverly Sills, Patricia Brooks, Phyllis Curtin, and Norman Treigle populated imaginative productions by Frank  Corsaro, Tito Capobianco, and other  directors.  These years of the Rudel regime were the company's highwater mark.  And both the Met and NYCO moved from their old homes to Lincoln Center during this decade.  It was also a rich time for the song recital, with Fischer-Dieskau and Schwarzkopf, Crespin and Souzay, Berganza and De los Angeles, among others, appearing regularly.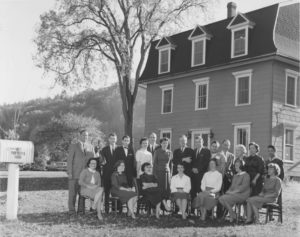 In recordings, stereo was brand-new, and the major labels poured out studio-engineered complete operas and LP recital disks month after month.  So I had a lot to write about, and since classical record collecting (and radio listening) was at its height, a large readership was available to our magazine, and to Stereo Review and  American Record Guide.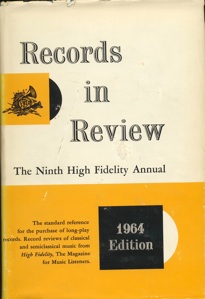 I reviewed the great majority of vocal recordings issued during this time, and undertook a series of comprehensive critical discographies–work I continued much later (though with severely reduced space) in the Metropolitan Opera Guide(s) to Opera on Records and Video–in addition to feature articles, interviews, and columns.  The record reviews (but none of the other material) are anthologized in the Records in  Review  annuals (Wyeth Press, Great Barrington, 1960-81).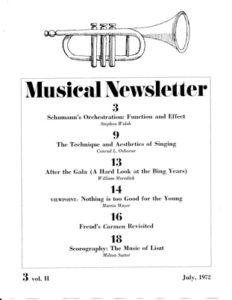 In the 1970s, I reduced my reviewing load, but continued to write for the same magazines, and for a new one as well: The Musical Newsletter.  This was a quarterly, edited and  published by Patrick J. Smith, author of  The Tenth Muse and, later, the editor of Opera News.   Patrick was the last of the gentleman publishers, and while MN's subscription list was small throughout its existence, its editorial standard was high, and its trio of Contributing Editors (David Hamilton, Robert  P. Morgan, and myself) could write at length on topics that engaged us.  During these years I also spent parts of two summers mentoring aspiring young opera critics in seminars under the auspices of the Music Critics' Association .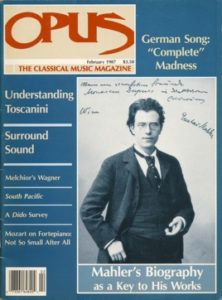 In 1983, nearly all the senior critics on High Fidelity/Musical America (among others, Harris Goldsmith, Dale Harris, Andrew Porter, Will Crutchfield, Paul Henry Lang, Peter G. Davis, Kenneth Furie, Hamilton, Morgan, and yours truly) resigned in protest over the lack of autonomy accorded our Music Editor, James Oestreich.  A year later, we formed the core of the reviewing staff  of the original Opus, with Oestreich as Editor.  Again, editorial standards were high and readership was up to projections, but the magazine survived only four years before succumbing to the bottom-line economics of a parent company.  During the 1980s I also wrote for Keynote, the excellent program magazine of the New York classical music station WNCN, under the editorship of  Sedgwick Clark.  In the 1990s, I contributed several lead articles to the arts section of the Sunday New York Times, and since then have written occasional pieces for my original forum, Opera News.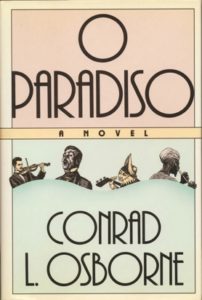 My novel O Paradiso was published in 1988 by Arbor House/William Morrow.  Because it is seriocomic in tone, and set on the lower rungs of the New York opera scene, it was widely taken to be a roman à clef , which it is not.  It's a novel about problems of male generational adaptation to a  world of rapidly changing mores.  Its two protagonists, a macho voice teacher and a gay critic ("the Florestan and Eusebius and the collective conscience of O Paradiso", as Richard Dyer put it in his review–see the Boston Globe, Apr. 26, l988) pursue roughly parallel paths that finally converge around a fly-by-night production of Meyerbeer's L'Africana at New York's Beacon Theatre.  There's a subplot and many other characters.  The novel is long out of print, but a few copies float about.
Forthcoming:  Opera as Opera: The State of the Art, a book on the current state of the art form.  For the seriously interested.