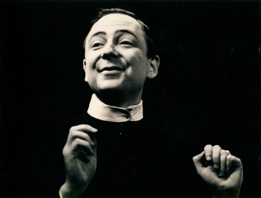 When my vocal studies were far enough along to permit it (see Background and Training on the Teaching page), I enrolled in the opera workshop at Hunter College.  This was one of the first such programs established by emigrés of the World War II generation, and at that time (1965) the best training-and-exposure venue in New York outside the major music schools, Juilliard and Manhattan.  William Tarrasch was the musical director and Hugh Thompson (later David Lloyd ) the dramatic directors.  Among the aspiring young singers in our group were Michael Devlin, John Stewart, and Sheila Nadler.  I stayed three semesters at Hunter, singing roles in the annual full productions (Vicar Gedge in Albert Herring, Count Orsino in Amram's Twelfth Night), and numerous scenes from standard repertory operas.  I also spent a year in Frank Corsaro's operatic acting class, which combined scene study with exercises adapted from American Method technique.  Around the same time, I performed with some of the Mom-and-Pop companies (e.g., the Ruffino, the Amato) which then, as now, proliferated in the city.  Among my roles in these settings were Marcello in La Bohème, both Falke and Frank in Die Fledermaus, Enrico (Lucia), Masetto (Don Giovanni), and Ben (The Telephone).  These performances (and even a few of my professional ones) were sung under the stage name of Lionel Garamond.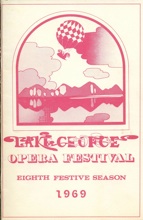 For a variety of personal and professional reasons, it wasn't feasible for me to pursue a full-time singing career.  Nevertheless, I was able to do some interesting things:  all the bass and baritone solo parts in Purcell's Faery Queen with the Masterwork Orchestra and Chorus at Philharmonic (now Avery Fisher) Hall, David Randolph, cond.;  the Music Master in Ariadne auf Naxos at the Lake George (now Saratoga) Opera Festival; the Moine Musicien in Massenet's Jongleur de Notre Dame for the Friends of French Opera, Robert Lawrence, cond.; Schaunard in La Bohème with the Metropolitan Opera Studio and Eve Queler's Opera Training Orchestra (forerunner of her Opera Orchestra of New York); an evening at the 92nd Street Y singing poems as set by different composers and then discussing same with a panel consisting of George Steiner, Milton Babbitt, and Patrick J. Smith; etc.  In 197l, at Carnegie Recital Hall, in a concert of music from the original version of Verdi's Don Carlos, then only recently discovered by Andrew Porter, I became the first baritone since the legendary Jean-Baptiste Faure to sing variant sections of the role of Rodrigue — nowhere near as well, of course, but still a bit of a thrill.
Some years later, during my "second acting career" (see Acting), I took parts in several musicals calling for "legit" singing, and gave over forty performances in the late-night cabarets at the Williamstown Theatre Festival.  Most recent appearances: concert performances, 2004-2006, produced by Richard Slade for the New York Gilbert & Sullivan Society:  King Gama (Princess Ida), King Paramount (Utopia, Ltd.), and DonAlhambra (The Gondoliers).